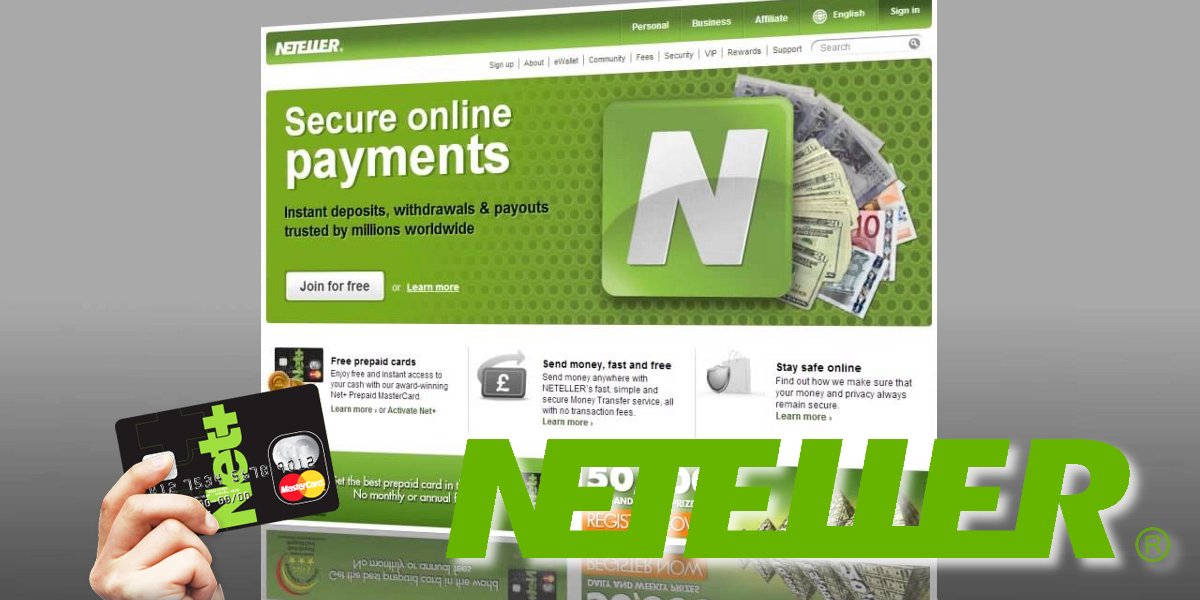 Neteller is a digital e-wallet service operated by the PaySafe Group. Neteller provide an independent simple, fast and secure system that allows individuals to fund online betting accounts.
The system is useful for keeping your betting transactions in one place or in cases where other payment methods are not applicable. Most betting sites in the world accept Neteller.
Neteller is one of many different e-wallet solutions for depositing and withdrawing money from an online betting account.
By using it you get all the safety benefits an e-wallet provides and you can move money to and from a merchant (betting site) from your Neteller account free of charge.
You do, however, have to pay to get money in and out of your Neteller account.
Get FREE You NETELLER account!
NETELLER – Fast, simple and secure payments
For over a decade, NETELLER has provided businesses and individuals with a fast, simple and secure way to move money online. As one of the world's largest independent money transfer businesses, we process billions of dollars' worth of transactions each year.
Trusted by merchants and consumers alike, our financial services span more than 200 countries across a broad spectrum of industries and businesses.
The NETELLER service is operated by Paysafe Financial Services Limited™.
Founded in 1999, Paysafe Financial Services Limited provides businesses and individuals with an online alternative to traditional payment methods.
We help customers get their money where it needs to go securely and privately, and give businesses an option for accepting payments and making payouts in markets where traditional methods may not work.
Millions of customers around the world have used NETELLER to pay and get paid on thousands of sites and to send money around the world. With a host of online and offline withdrawal and spending options; they also enjoy instant access to their cash at millions of point-of-sale, ATM and online locations.
NETELLER Financial Regulation
Paysafe Financial Services Limited, a wholly-owned subsidiary of Paysafe Group Plc (Company no.109535C) is authorised by the Financial Conduct Authority under the Electronic Money Regulations 2011 (900015) for the issuing of electronic money.
Because we're authorised by the Financial Conduct Authority in the UK, we maintain the highest standards across our business and services around the world. Our industry-leading physical and electronic security measures and Anti-Money Laundering protocols ensure our members are protected as far as possible from identity theft and fraud.
We also hold over 100% of on-deposit, un-cleared and in-transit funds in independent segregated accounts for your protection. Millions of members from all over the world trust us with their money. You can too.
NETELLER Key registered offices
Paysafe Group Plc, Audax House, Finch Road, Douglas, IM1 2PT, Isle of Man
Paysafe Financial Services Limited, Compass House, Vision Park, Chivers Way, Histon, Cambridge, CB24 9AD, United Kingdom
Netbanx Ltd, Compass House, Vision Park, Chivers Way, Histon, Cambridge, CB24 9AD, United Kingdom
Paysafe Group Plc, 2 Place Alexis-Nihon, 3500 de Maisonneuve Blvd. W., Suite 700, Montreal, Quebec, Canada, H3Z 3C1
Paysafe, 75 Promenade du Portage, Gatineau, Quebec, Canada, J8X 2J9
Paysafe, 40 Wall Street 28th Floor, New York, NY 10005 USA
Optimal Payments Merchant Services (Mauritius) Limited, 5A Wellington Avenue, Rose Gill, Mauritius
The NETELLER Account is an online stored-value account that millions of consumers in more than 200 countries have used to add, withdraw and transfer funds to and from NETELLER merchants using the Net+ prepaid card.
NETELLER Net+ Prepaid Card®
With some of the highest acceptance rates at regulated gaming sites, Net+ is a great way to get your money where you need it. Use your Net+ prepaid card at regulated gaming sites and take advantage of a host of security features to keep your personal information secure.
Withdraw cash from ATMs and make purchases everywhere Discover® is accepted. 
Net+ prepaid cards are issued by Sutton Bank MEMBER FDIC. Discover® and the Discover Acceptance Mark are service marks used by Sutton Bank under license from Discover Financial Services.
Full Service Countries
NETELLER provides full service in these countries/regions which means residents can hold a NETELLER Account, transact with merchants, and have access to deposit and withdrawal options.
Limited Service Countries
Residents of limited service countries are able to hold a NETELLER Account, and have access to limited transaction options.
No Service Countries
NETELLER does not provide service to residents of these countries nor will you be able to sign in to access your NETELLER Account while travelling within the borders of these countries.
Get FREE You NETELLER account!